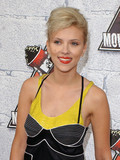 How tall is Scarlett Johansson?
Here you find the height of Scarlett Johansson.
The height of Scarlett Johansson is
5ft 3.8in(162cm)
Do you think Scarlett Johanssons height is incorrect? Please tell us by leaving a comment!
Top 10 celebrities:
| | | |
| --- | --- | --- |
| slightly shorter (161cm) | same height (162cm) | slightly taller (163cm) |
Comments
-
2012-10-29
I believe the current information on Scarlett's height is wrong. Scarlett Johansson has previously stated her height, which is 165cm, numerous times in public, and is obvious she is telling the truth when comparing her pictures to that of celebrities slightly below or above 165cm. If this has not convinced you, i suggest you view stills of her movies with co stars of the same height. I suggest you review the info of many other celebrities too as there are countless other mistakes i have spotted.