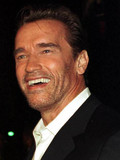 How tall is Arnold Schwarzenegger?
Here you find the height of Arnold Schwarzenegger.
The height of Arnold Schwarzenegger is
6ft 0.4in(184cm)
Do you think Arnold Schwarzeneggers height is incorrect? Please tell us by leaving a comment!
Top 10 celebrities:
| | | |
| --- | --- | --- |
| slightly shorter (183cm) | same height (184cm) | slightly taller (185cm) |
Comments
Clark
2012-12-30
The "Austrian Oak" was never 6"1 1/2" --that has been another fabrication. He is very astute about who he will take a picture with. His best height today is 5'11" if not that. Arnold is a shoe lift advocate also.
--It's all smoke and mirrors...
2013-01-10
Agreed with his height now! But before, he must be about 6'2'' (1m88)