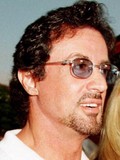 How tall is Sylvester Stallone?
Here you find the height of Sylvester Stallone.
The height of Sylvester Stallone is
5ft 10.1in(178cm)
Do you think Sylvester Stallones height is incorrect? Please tell us by leaving a comment!
Top 10 celebrities:
| | | |
| --- | --- | --- |
| slightly shorter (177cm) | same height (178cm) | slightly taller (179cm) |
Comments
DAVID
2012-06-04
STALLONE ISNT EVEN CLOSE TO 5'10".. I AM 5'11" AND STOOD FACING HIM....... I LOOKED DOWN.. HE IS 5'6 - 5'7" AT BEST
Searider
2012-10-31
Sly isnt even 5'6", I know the Nanny that takes care of his kids, and I have met him. I was told he was pretty short so when i met him I "sized him up" I wouldve said 5'8" to 5' 9" until i saw the ridiculous platforms he had on. The nanny says on a good day he's about 5'4"
2012-12-19
Stallones 5ft 5-6!
2012-12-30
I opened his limo door in Houston, for the Planet Hollywood opening. I am 5'10" and he was barely 5'8" with his special foot lifts. That was the chatter of all the fans there!!!