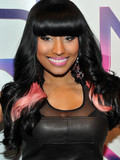 How tall is Nicki Minaj?
Here you find the height of Nicki Minaj.
The height of Nicki Minaj is
5ft 4.6in(164cm)
Do you think Nicki Minajs height is incorrect? Please tell us by leaving a comment!
Top 10 celebrities:
| | | |
| --- | --- | --- |
| slightly shorter (163cm) | same height (164cm) | slightly taller (165cm) |
Comments
Viki
2012-05-06
Hi! Her height is actually 5ft. 2in not 5ft 4.6
coco
2012-06-13
Nicki Minaj is awesome!!!!!!!!!!!!!!!!!!! iI have heard all of the songs she has worte my fav is starships(I know the rap to the song to it by heart). Nicki Minaj is taller than that because if she was not she would be shorter than China Anne McClain. HEARTS UP TO NICKI. I LOVE YOU!!!!!!!!!!!!!!
Wut
2012-12-30
She's not that tall! She's 5ft 2 get it right!