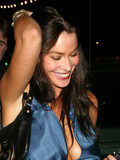 How tall is Sofia Vergara?
Here you find the height of Sofia Vergara.
The height of Sofia Vergara is
5ft 6.9in(170cm)
Do you think Sofia Vergaras height is incorrect? Please tell us by leaving a comment!
Top 10 celebrities:
| | | |
| --- | --- | --- |
| slightly shorter (169cm) | same height (170cm) | slightly taller (171cm) |
Comments
talnyc
2012-06-21
I am 5.8 inches tall and I walked by her in SoHo and she was wearing platform sandals and I was taller than she was. If she was 5.7 inches tall, she would be 5.10 inches tall or higher in those heels.