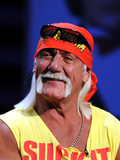 How tall is Hulk Hogan?
Here you find the height of Hulk Hogan.
The height of Hulk Hogan is
6ft 3.6in(192cm)
Do you think Hulk Hogans height is incorrect? Please tell us by leaving a comment!
Top 10 celebrities:
| | | |
| --- | --- | --- |
| slightly shorter (191cm) | same height (192cm) | slightly taller (193cm) |
Comments
george
2012-05-27
I believe he is about6'2 or 6'3 because in the Rent a center commercials with Troy Aikman he is a couple of inches shorter than Troy who is 6'4
bdubya2008
2013-01-08
He was billed at 6'7' when he was wrestling but he is actually 6'3"