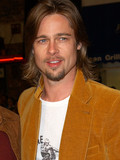 How tall is Brad Pitt?
Here you find the height of Brad Pitt.
The height of Brad Pitt is
5ft 11.3in(181cm)
Do you think Brad Pitts height is incorrect? Please tell us by leaving a comment!
Top 10 celebrities:
| | | |
| --- | --- | --- |
| slightly shorter (180cm) | same height (181cm) | slightly taller (182cm) |
Comments
Clark
2012-12-30
Brad Pitt is another shoe lift advocate. Five foot elevan is spot on. He is not over 6 feet, as much as he would like.