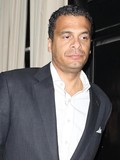 How tall is John Utendahl?
Here you find the height of John Utendahl.
The height of John Utendahl is
6ft 2.8in(190cm)
Do you think John Utendahls height is incorrect? Please tell us by leaving a comment!
Top 10 celebrities:
| | | |
| --- | --- | --- |
| slightly shorter (189cm) | same height (190cm) | slightly taller (191cm) |
Comments
Ree
2012-10-18
NO, I don't believe it's correct. There is a pic of him and Tyra online. She is 5'10" and wearing 3" heels, and he is still considerably taller than her.
2012-11-16
No, there's a picture of him standing next to ex-NBA player Rony Seikaly who was 7 foot or slightly less, and Rony is about 2 inches taller than John.
Geno
2012-11-16
No Way !!! Go to www.binnshot.com and see him standing next to 6'11, 7 foot ex-NBA star Rony Seikaly, there's about a 2 inch difference